Photo Courtesy: global.toyota

The Toyota Hilux has attained itself as one of the strongest and reliable brand to purchase if you are digging for a pickup truck with exceptional driving performance. Not only is the Toyota pickup models known for its strength and stability on off-road driving, but also its excellent torsional rigidity for precise handling. Toyota Hilux is available in the 2WD/4WD single and double cabins, and it also comes with either a gasoline or diesel engine. 
At Carmusika.com, we recommend the Toyota Hilux pickup truck for its high dependability ratings and its good fuel efficiency, being the fact that you can drive this truck for miles without spending much on fuel expenses.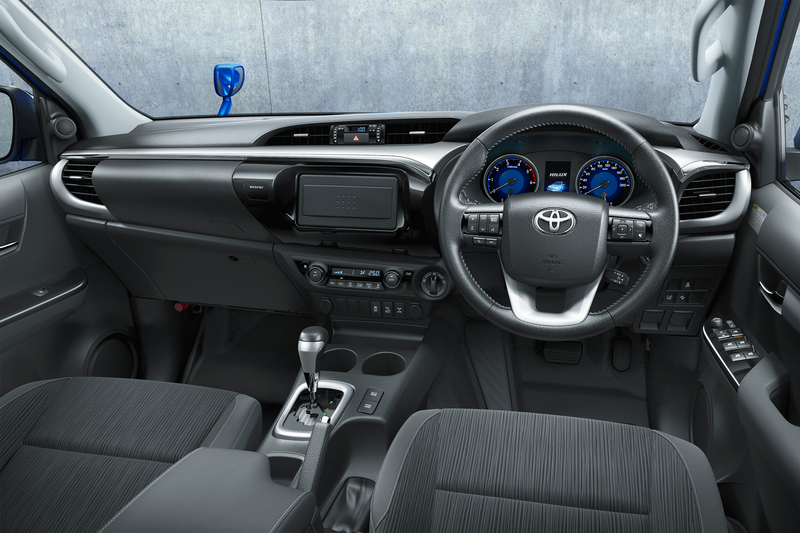 Photo Courtesy: global.toyota
Hilux's performance

Toyota Hilux comes with two distinctive engines. You can either go for the petrol-engined model or the diesel-engined model. If you choose the petrol engine, then you are lucky to have an engine paired with the VVT-i (Variable Valve Timing With Intelligence), which helps to provide increased torque and output, excellent fuel economy, and reduced emissions. However,  the diesel engine operates with a common rail direct fuel injection into the cylinders, which regulates the air-fuel ratio, as a result providing an excellent driving response and fuel efficiency.

Its large fuel tank capacity enables the vehicle to drive extended distances while consuming lesser fuel. Furthermore, it has a high-positioned air intake that helps curb water from entering when driving on flooded roads.

With the Toyota Hilux, you can select between an automatic or manual transmission, which means you can get a Toyota Hilux model that enables you to drive effortlessly without changing gears, or you can choose the other model that uses a manually shifted gearbox. For example, both the current 2019 and 2020 Toyota Hilux comes in different trims that uses either a six-speed manual transmission or a six-speed automatic transmission.

And if you are thinking about whether you should go for a high-speed 4WD or a low-speed 4WD of the Toyota Hilux. Then here's a heads up, the high-speed 4-wheel drive is incredibly useful for slippery surfaces and off-road driving, while its low-speed 4-wheel drive offers terrific grip through muddy grounds or on-road slants, and its high-speed rear-wheel model drives comfortably on paved roads.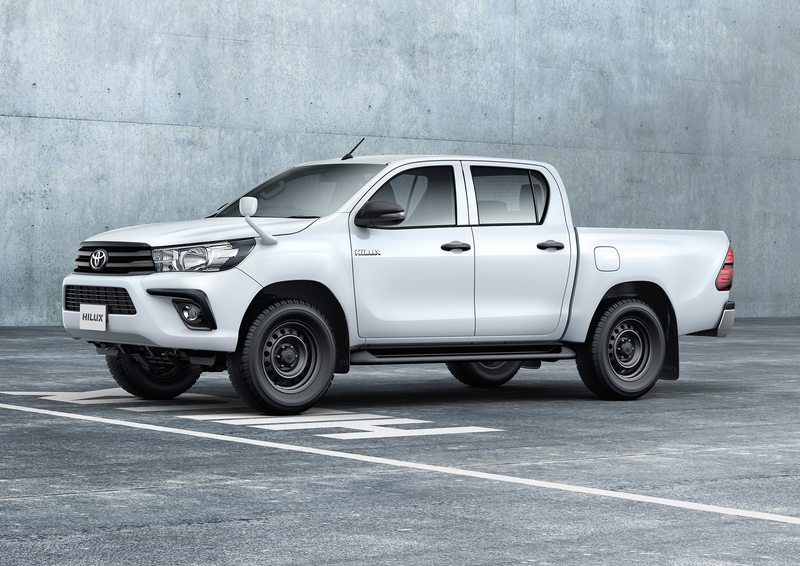 Photo Courtesy: global.toyota
Safety features 

Toyota gave the Hilux truck a rugged and active exterior design by using a laser-welded high-tensile steel body and chassis that bestows the vehicle with a lightweight premium look and feel.

It also uses a distinctive grille that makes it standout highly recognizable amongst other opponents. And its LED lights offer optimum brightness during late hours of the day. The vehicle also adopts athletic tray-like bodies to retain cargo and increase your carrying capabilities. It has alloy or steel wheels fitted perfectly with its wide tires to give you a better grip.

Current models like the 2019 Hilux comes with equipped safety features such as stability control, active traction control, hill-start assists control, trailer sway control, and brake assists tech.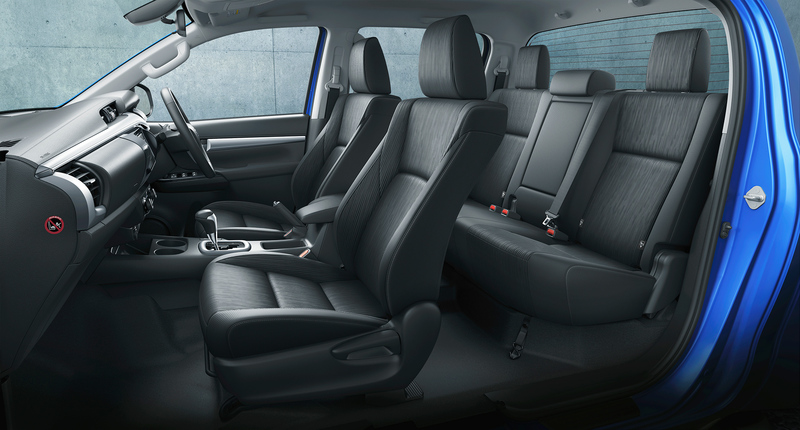 Photo Courtesy: global.toyota

The Interior

The 2WD/4WD single cabin Petrol/Diesel has a seating capacity of two persons, while its 2WD/4WD double cabin Petrol/Diesel can accommodate up to five persons. Generally, it depends on the trim you are going for because Toyota offers different seating structure to its customers.

The seating materials comprises of either fabric or leather, and it has a hydraulic steering wheel made of Urethane. Every Toyota Hilux comes with a steering switch, airbag, and audio system, speakers, headlamps, heater control panel, except for some premium packages which are only available in the current models. For example, the Hilux 2019/20 has the legendary Toyota Touch 2 that contains a host of multimedia features from smartphone integration to a JBL sound system with Harman CLARi-Fi technology to keep you engaged and connected, including a rear-view camera and suite of advanced safety systems.  

So if you are not still sure of buying the Toyota Hilux, here is a short YouTube video to clear your doubts - https://youtu.be/938R8ooBFdQ.
You can get a variety of Toyota Hilux models at Carmusika.com, including the recent Toyota Hilux 2019 selling at negotiable prices ranging from USD 12,000 to USD 15,000. You will also find the 2020 Hilux at a starting price of USD 25,000 upwards. 
For more recent news on your favorite cars, kindly subscribe to www.Carmusika.com.