Photo Courtesy: global.toyota
Toyota models have always been a reliable and highly recommendable choice of vehicle to purchase for both commercial and personal purposes. The Toyota Hiace commuter is not an exception. This sophisticated bus is one of the most talented and dependable vehicles used for road transportation services in cities, villages, and towns. The Toyota Hiace is also amongst the top trending buses that have taken the world of transportation to another level.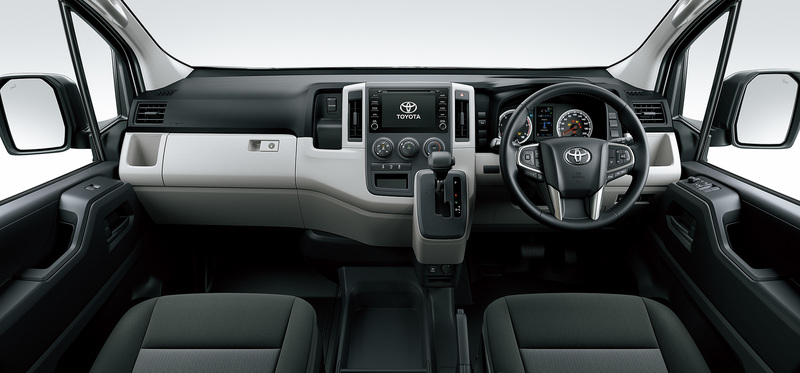 Photo Courtesy: global.toyota
Designed from scratch to meet today's active driving features and performances, the Hiace bus is fully loaded with style, high-quality attributes, and distinguished road capabilities to meet every customer's desires and needs. At Carmusika, the Toyota Hiace is a top brand to drive for a vibrant and enjoyable commercial road activity.
The Toyota Hiace production began right from October 1967 to its current 2020 production. And every year, it underwent a series of changes and modifications, starting with its bodywork and shape. Until this current year, the Toyota Hiace has steadily maintained its elegant and athletic posture due to the advancement of technology and materials. 

Toyota created the Hiace to serve customers as either a commuter for carrying passengers, goods, and luggage, or an ambulance vehicle (hospital purposes). With the introduction of newer technologies and features, the Hiace has even become more competitive than its previous years. The Hiace is accessible in three body types - Hiace Wagon, Hiace Van, and Hiace commuter with the choice of either a petrol engine or a diesel engine.


Photo Courtesy: global.toyota
The Toyota Hiace also comes with either an automatically controlled transmission or a manually controlled transmission. There are three Hiace variants to grab, the Super Long Wheelbase (SLWB), Commuter, and Long Wheelbase (LWB), along with a choice of two engines and two gearboxes.
Ample of the Toyota Hiace models utilize a four-cylinder DOHC engine in a variety of structures: a 2KD-FTV 2500 cc or 1KD-FTV 3,000 cc D-4D turbo-diesel engine or a 1TR-FE 2000 cc or 2TR-FE 2700 cc petrol engine. Generally, in export markets, the Hiace vehicles come with 1TR – 1990 cc, 1RZ – 1990 cc, and 2RZ – 2430 cc head petrol engines, and the most preferred one is the 5L-E 3000 cc diesel engine. The 2019 Hiace buses have two engine choices - either you go for a turbocharged 2.8 L 1GD-FTV inline-four diesel engine or an ordinary 3.5 L 7GR-FKS V6 petrol engine.

Photo Courtesy: global.toyota
Depending on the Toyota variant, there are available 12-14 seaters in a Hiace vehicle. For example, the Toyota Hiace commuter has 14 seaters, while its Hiace Grandia has 12 seaters. The Hiace is spacious and big enough for passengers to feel comfortable, and also all interior materials use quality leather or fabric. Its cabin is soothing, and it has a fully equipped dashboard that offers enhanced controls to assist a driver in his driving. 
The Hiace uses both active and passive features to protect the driver and passengers. Firstly, its visibility is incredible, and its crumple zones help to reduce damages in the event of a collision.  It has other numerous safety technologies, a few of them found in the newer models are SRS airbags, anti-lock brake system, whiplash injury lessening seating system, brake pedal, and steering shaft intrusion-reduction system with rotary mechanism, and last but the least, reverse sensors.

For more details, here is a short YouTube video to show you its capabilities - https://youtu.be/0wJndsXhWpQ

Carmusika.com offers a variety of Toyota Hiace models at negotiable prices ranging from USD 3,000 to USD 20,000 in Zimbabwe. The online platform also allows you to interact with the local car vendors by offering your bid on the vehicle. So why delay this? Get your Toyota Hiace now!
Do not forget to subscribe to www.carmusika.com for the latest updates on your favorite vehicles!